Hating and Dating: A Toxic Talk Show to Meet Local Singles
September 8, 2022 @ 8:00 pm

-

9:30 pm

EDT
Every Thursday comedians go live with the Miami Comedy Community and talk about toxic culture in dating and finding love in the Magic City.
Still single in Miami? You're not alone! Every Thursday 8pm you can vent about your dating life with the locals that love to laugh about it.
Conveniently log into Zoom from anywhere to participate in the discussion
Donation based entry, pay what you want to be a guest on the show
Play games, watch social media posts with us and share your opinions on what modern dating is like
Raffles, prizes and giveaways to our live shows and merch
For exclusive VIP access to all our comedy shows live and virtual, text "MIAMI" to 772-774-3432
Ticketing and Merch options
1. Pay what you want, entry to the Zoom call and to participate as a guest is donation based.
Please have your audio and camera read to be a guest on the show.
Also note that the show will be recorded and your likeness may be used for the podcast and social media posts. Send us your social media handles for a shout out!
2. Support the show! Purchase merch to gain access and swag!
Purchase a shirt or snapback (or both) for access to the stream and we'll send you the gear via mail or pick up at one of our live shows.
If you want it mailed we'll send you a promo code to use at the merch store, shipping and handling is included!
3. Ticket Packages
Get the T Shirt and Snapback hat together for $50!
Look good and become a VIP of the show! You can be a featured guest and get a shout out for your support!
Show off your sense of humor Miami style…
Pictured here is a very handsome flamingo in a vintage Miami Vice 80's look.
Premium Soft, yet heavy cotton and high quality print!
Great to wear on a sunny day or when you attend a comedy show.
Miami Comedy is an ongoing project that lets the locals laugh everyday!
Sizes S – XL available, in Nighttime Black or Daytime Hot Pink.
This is an NFT design! Own a piece of history of comedy in Miami.
You can view our collection here: https://opensea.io/collection/flamboyantflamingoflock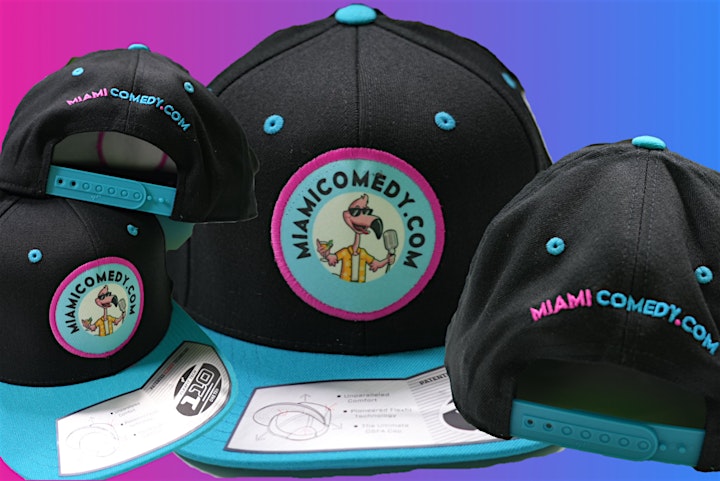 Snapback hats are now here!
Pictured here are premium snapback caps suitable to get some shade on a sunny Miami day.
The palette of turquoise blue, pink and black matches well with Miami colors.
Quality stitching front and back (not glued) and printed in limited quantity.
Part of our NFT merch collection, once they sell out we will design a new color scheme.
Get yours today!
Suits well with just about any wardrobe you have, giving it an original flare for local comedy fans.
One size fits all!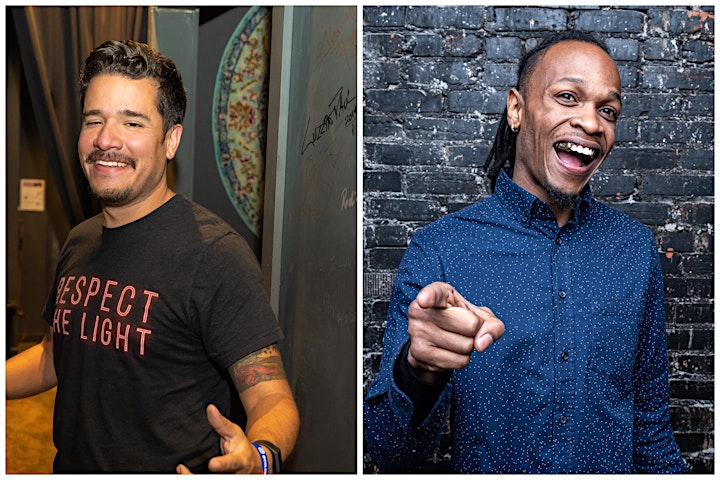 Meet your hosts Manny Garavito and Comedian JJ
Manny and JJ met up in 2015 at an open mic and Miami Comedy was never the same. Roasting everything and staying true to the art of comedy by speaking our minds no matter what the people say. Performing regularly at Dom's in Brickell Tuesday nights, they got together and started laughing about dating stories and the people we meet at the clubs. They would make each other laugh out loud and we had to take these toxic thoughts to the stage as a talk show. Here's your chance to be a part of it!
About Miami Comedy
MiamiComedy.com has produced independent comedy events for years. Over time we've built a platform where you can laugh everyday in Miami! We present to you authentic local and national performers and curate entertaining live shows for locals who love to laugh and enjoy the true art of stand up comedy. As seen on Amazon Prime Video "Respect the Light" the Miami New Times, Culture Crusaders, the Miami Improv and UNATION. We create unforgettably funny pop up shows all over the Magic City, in all your favorite bars, restaurants, lounges, theaters and virtual! We make each experience unique with its own environment, line up, drinking, social groups and dining menus!
Questions? Special Occasions? Event Planning? Birthdays?
Get in contact with me here:
Text: 786-610-5571
Email: manny@miamicomedy.com
Chat: miamicomedy.com